Sophisticated fraudsters are targeting Australian investors with investment 'phishing' scams. Find out what to watch out for so you can avoid being caught up in one.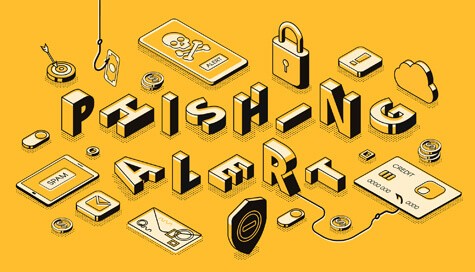 We recently drew attention to a new type of scam where sophisticated fraudsters, pretending to work for real companies, are targeting Australian investors with fake investment products.
Our Smart Investing article followed a warning in late January from the Australian Securities and Investments Commission (ASIC) about the rise of "imposter bond" investment offers that claim to deliver secure, high-yield returns.
The fraudsters have designed professional looking fake websites using real company logos, to capture personal information such as phone, email and bank details.
They then make contact directly and offer to email a fake investment prospectus document in order to trick people into investing their money.
Vanguard branded phishing scam
Phishing is the term used to describe fraudulent attempts to illegally obtain sensitive information or data, usually via fake websites or emails.
Vanguard has now become aware of a phishing campaign being operated through a fraudulent comparison website that's targeting people online. The website includes a fake investment offer from Vanguard.
People providing personal contact information are then being phoned, with the caller offering to email a pretend Vanguard prospectus.
We're alerting people to this scam via our websites and investor portal, through our phone support, and advising anyone impacted on steps to take if you've shared any personal information.
Vanguard's IT security systems have not been compromised in any way by this issue and our priority is to warn investors of the scam and assist those who have been impacted.
If you suspect you've transferred any money to a third party in relation to this scam you should immediately contact police, and contact your bank to stop direct debit transactions if you've shared any banking details.
It's also important to alert major credit bureaus such as Equifax and Experian to place a block on your credit profile to stop others from opening accounts using your personal information.
Our teams are working closely with authorities and industry partners to identify and remove the bogus website and to provide information from official sources, such as the Australian Competition & Consumer Commission's ScamWatch, on how to stay safe online.
What to watch out for
Some of the common tactics being used by the "imposter bond" scammers include:
Using the contact details gathered online through fake investment comparison websites to call people and pressure them to invest or risk missing out.
Sending professional looking fake prospectuses with unrealistically high returns.
Falsely stating the bonds are issued by prominent financial services firms when this is not true and there is no underlying investment.
Falsely claiming investor funds will be pooled to invest in government bonds or the bonds of companies with AAA credit ratings.
Falsely claiming the purchase price of the bonds is protected under the Commonwealth Government's Financial Claims Scheme.
How to avoid investment scams
As noted in our previous article, just taking a few basic precautions will go a long way to ensuring you don't get caught up in a scam.
Ignore all unsolicited approaches to invest in a financial product, even if they come via people pretending to be from a well-known company or a government authority.
Keep in mind that Vanguard never sends email or text messages with clickable links asking you to verify or provide personal information such as your account or login details.
There are many ways to greatly reduce your chances of ever being tempted into a scam.
Ensure any promotional investment emails you receive, even from companies you already invest with, are legitimate.
If in any doubt over a company's bona fides, check that its website is displaying a genuine Australian Business Number and an Australian Financial Services Licence (AFSL) number. These details can be checked directly using ASIC's online search registers.
Don't ever click on links or open attachments in emails unless you are completely certain of the authenticity of the sender.
You can easily verify website addresses by searching a company (without clicking on an email link), and by checking contact details through legitimate online information sources.
Never respond to messages, calls or emails that ask for any personal information or financial details. ASIC advises people to just hang up on callers attempting to interest you in investments, and to delete any suspicious emails.
Types of approaches can be investment cold calls from bogus portfolio managers or real estate agents pretending to promote share investments or property schemes, or to offer financial advice.
Don't fall for approaches to investment seminars designed to promote "exclusive" opportunities offering high returns. These can be straight scams, or involve very high-risk investment products or schemes.
Be on the alert for superannuation scams offering to give you early access to your super funds. Accessing superannuation is subject to strict conditions governed by federal legislation.
Lastly, if an investment offer sounds too good to be true, it probably isn't legitimate.
The ScamWatch website should be your first port of call to check out everything to do with investment scams, including news and alerts of current activities.
Also check ASIC's extensive Moneysmart list of companies you should not deal with.
By Tony Kaye, Senior Personal Finance Writer, Vanguard Australia
16 Mar, 2021
vanguard.com.au